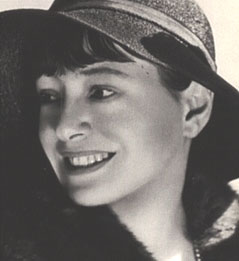 I know I wished you all a splendid weekend, but I can't sleep and I was browsing Wikipedia and found out that today, August 22nd, is Dorothy Parker's birthday! We here at Lovely At Your Side consider Ms. Parker to be an absolute idol, a wonderful influence and a truly beautiful writer.

Happy Birthday, DP. I'll enjoy the lovely day in your memory.

And I'll present you, lovely readers, with one of my favorite Parker poems.


For A Favorite Granddaughter
Never love a simple lad,
Guard against a wise,
Shun a timid youth and sad,
Hide from haunted eyes.
Never hold your heart in pain
For an evil-doer;
Never flip it down the lane
To a gifted wooer.
Never love a loving son,
Nor a sheep astray;
Gather up your skirts and run
From a tender way.
Never give away a tear,
Never toss a pine;
Should you heed my words, my dear,
You're no blood of mine!
picture
courtesy
of
wikipedia
.