When Jenny and I were little, every year around December 1st, our house would become akin to Santa's workshop. My mother would fill every table top and counter with holiday projects so that we could conjure up [what seemed like] thousands of presents for our family members and friends. There was always a theme: one year was soap, another candles, another journals, another heating pads, corkboards, picture frames, etc. We loved getting messy and creating gifts for our loved ones, and we still really, really love it. We've put together our favorite DIY Holiday Gifts so that you can save a little money this year, and have fun creating some lovely gifts, too!

(Check back later this week for DIY Home Decor/Party Gifts!)



(Image via
The Kitchn
)
Granola/Breakfast Treats:
I love giving food as gifts to people, but sometimes people get cookie overload at the holidays. Try giving homemade granola (you can customize it for each loved one!).
This recipe
from
Bon Appétit
is pretty basic and healthy. Mix in different nuts, fruits, or spices to really doll things up. When you're all done, pour the granola into a
mason jar
with some fabric and ribbon around the top, add a label, and voila, they are set for breakfast! (You could also do this for
waffle/pancake mixes
and tie on a little jar of maple syrup.)
Custom Spices/Jams
: One of my all-time fave websites is
Specialty Bottle
; you can buy
beautiful glass spice/herb jars
for pretty darn cheap.
Why not mix up some custom spices
and pair them with a pasta, or bread mix, or cookie mix? They also sell cute
jam jars
,
so get cooking
! Check out these beyond adorable jam labels from
Eat, Drink, Chic
. Or, you could even use
chalkboard paint
and label each spice/jam with chalk...oh, the possibilities!
(Image via
Twig & Thistle
)
S'mores Kit:
I am slightly obsessed with the packaging of this
DIY S'more's Kit from Twig & Thistle
. How easy does this look? You can buy most of these ingredients during your regular weekly market run! (PS. Hello, wedding favor!)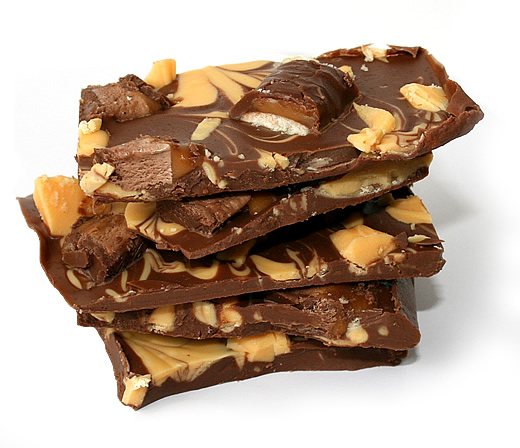 Rustic Treats
: I love the idea of wrapping some crunchy treats up in a pretty box with twine; I'd love to make
Chocolate Bark
(so easily customizable..you'd be like your own
Chocomize
, but for a lot less!). For the peanut lovers in your life, make batches of
Peanut Brittle
(a friend in college used to make this for everyone, it was a nice treat!).
(Image via
Fat-Free Vegan Kitchen
)
Healthy (Gluten-Free!) Treats:
I'm all for giving healthy treats for the holidays, especially when they look delicious. You could beautifully package up the
Gluten-Free Sesame Crackers
, or the
Gluten-Free Chickpea Crackers
, from
Fat-Free Vegan Kitchen
, and turn them into a delightful holiday package! I love how she uses heart-shaped cookie cutters to make the crackers, you could use a holiday themed cookie-cutter!
PS. Check out
Jordan Reid's DIY Gift Ideas
!