Some costumes ideas to reflect on for your favorite man.
The Dread Pirate Roberts/Wesley, The Princess Bride. Black pants, black button down and a mask- from a piece of black fabric with eye holes. Easy, peasy.
I want Andrey to be this because I really, really want to be Princess Buttercup. Exhibit A below.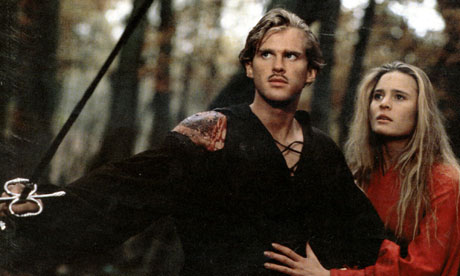 Shirt
, $28 |
Boots
|
Pants
|
Mask
, $7.98 |
Sword
, $20
Indiana Jones, Indiana Jones. I have (always) had a thing for Harrison Ford. I can't help it. Also, it can be made from elements your man already owns: take a stained/raggedy white button down and beat it up a bit. Khakis, a canvas messenger bag. Just buy a
hat
and a whip. Blamo, costume completed.
Shirt, $68 | Pants, $70 | Fedora, $70 | Whip, $8.99 |
Bag
, $125
Han Solo, Star Wars. Oh, look who it is again...ah..ha..no surprise there. Jeans/black pants, a white henley and a black vest. Add a flash light to a belt, or maybe a little pocket or something- let him carry a fake gun. Like, as I type this I am letting Andrey pretend a wooden rubber band gun is a real gun.